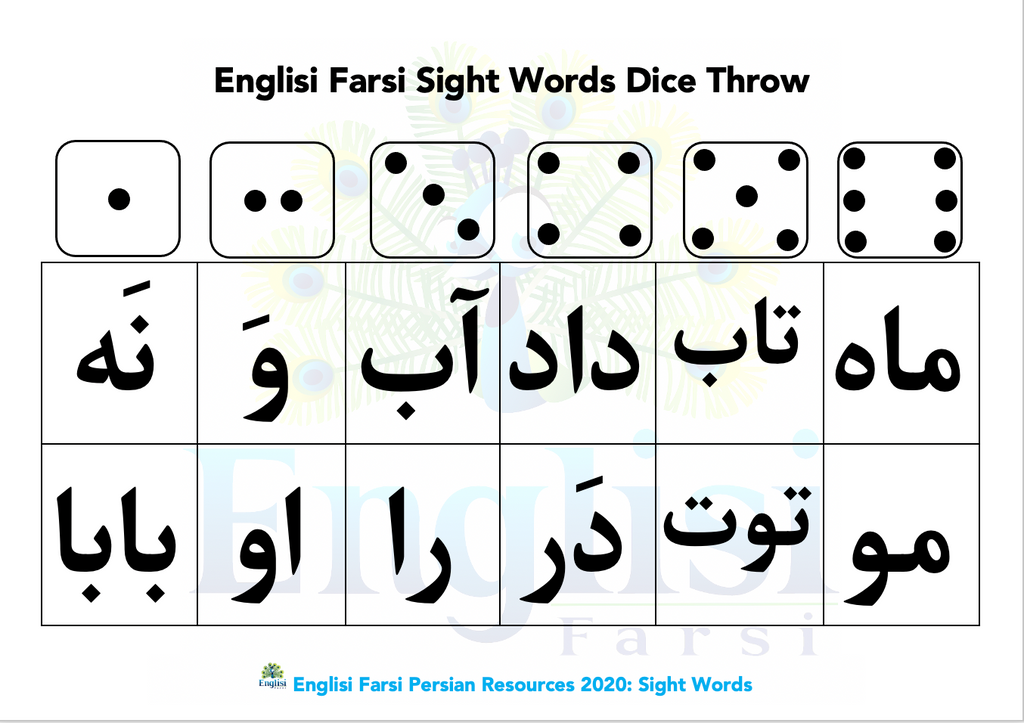 Englisi Farsi
Sight Words Dice Game Digital Download 📧 🎲 بابا آب داد
Persian Sight Words Dice Throw 🎲 Digital Download 📧 
 بابا آب داد
 Make it fun!
Throw the dice and read the word corresponding to the number 🎲 
Sight words help build a child's confidence,
They help a child familiarise themselves with common words to enable them to spend their brain power on decoding hard words.
Breaking down the sounds/phonetics.
Sight words are easy to integrate into your daily schedule.
Leaving them on a regularly visited surface/space and to casually repeat the words until your child recognises the words without prompting. 
Sometimes, we need a little nudge in the right direction. Whether it be to eat better, exercise more or learn that a new language.
Later has arrived.
Help your children/spouse/grandchildren learn Persian,
expand their Persian word recognition.
🦚 Persian. Pass it on. 🦚 
To cater to the next generation of multi-lingual and multi-national families the Englisi Farsi Persian Resources are a practical learning tool for 2nd & 3rd generation Iranians seeking to bring alive the Persian language for their children.
The perfect way to involve all family members.
Made with Love,
Bá eshgh 
---
Share this Product
---
More from this collection