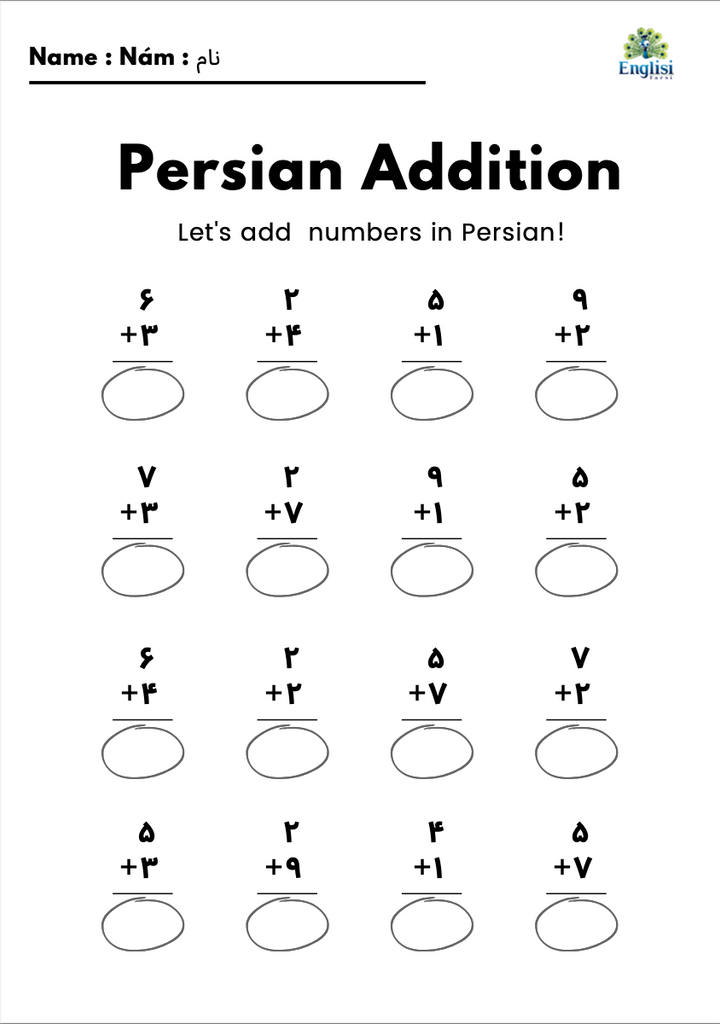 Englisi Farsi
Persian Maths worksheets Addition & subtraction Digital Download 📧 ۵+۵ =؟ ۳-۲ =؟
Persian Maths Addition & Subtraction Worksheet Digital Download 📧 
Single and double digits
۵+۹=؟
۱۵+۳۹=؟
۹-۵؟
۷۳-۵۲=؟
Print,
practice,
Repeat.
Learn how to do basic addition and subtraction with this four page worksheet. 
Single and double digits for both addition and subtraction to test your children grasp of the Persian numbers. 
You can always refer to our master sheet for numbers if you aren't familiar with the Persian numbers: Englisi Farsi Persian Number chart.
Place them on a frequently passed surface (I use the fridge/kitchen bench)
One new number every day!
Sometimes, we need a little nudge in the right direction. Whether it be to eat better, exercise more or learn that a new language.
Later has arrived.
Help your children/spouse/grandchildren learn Persian,
expand their Persian number recognition.
🦚 Persian. Pass it on. 🦚 
To cater to the next generation of multi-lingual and multi-national families the Englisi Farsi Persian Resources are a practical learning tool for 2nd & 3rd generation Iranians seeking to bring alive the Persian language for their children.
The perfect way to involve all family members.
Made with Love,
Bá eshgh 
---
Share this Product
---
More from this collection